Spa Treatments and Spa Programs
The Ulrika Medical Center offers a comprehensive package of spa procedures under the supervision of a spa physician: mineral thermal springs, balneotherapy with usage of hot thermal springs, electrotherapy, phototherapy, laser therapy, lymphatic drainage, shock wave, hydrocolon cleansing (intestinal flushing), body spa wraps, peat lining and wrapping, laser treatment of urological and gynecological diseases, therapeutic exercise, manual therapy, ozonotherapy, pneumopuncture, underwater, circulatory, contrast and ice showers, automated dry carbonic baths, floating, detoxification programs, various types of massages and state-of-the-art cosmetic procedures.
Guests have at their disposal a new spacious waiting room for clients, a reception desk for procedures, spacious room for physicians and staff, a room for procedures and massages, a fitness room, a cosmetology and aesthetic medicine department. There is a plan to install completely new unique methods and devices - cryo-chambers with unique German technology, floating, laser, automated dry carbon dioxide baths, inhalation rooms, detox bath boxes, aesthetic medicine equipment as well as an entire range of the most perfect instruments for physiotherapy, diagnostics and balneology.
The Medical Center will use unique methods for treating chronic pain on radiofrequency therapy devices, highly inductive magnetotherapy, shock wave therapy, and high-frequency laser radiation. The latest forced ventilation system will provide a comfortable stay for clients in all rooms of the Medical Center and hydrotherapy facilities.
Opening hours
Swimming pools: Monday - Sunday 8:00 - 21:00
Saunas: Monday - Sunday 15:00 - 21:00
Treatments: Monday - Saturday 9:00 - 17:00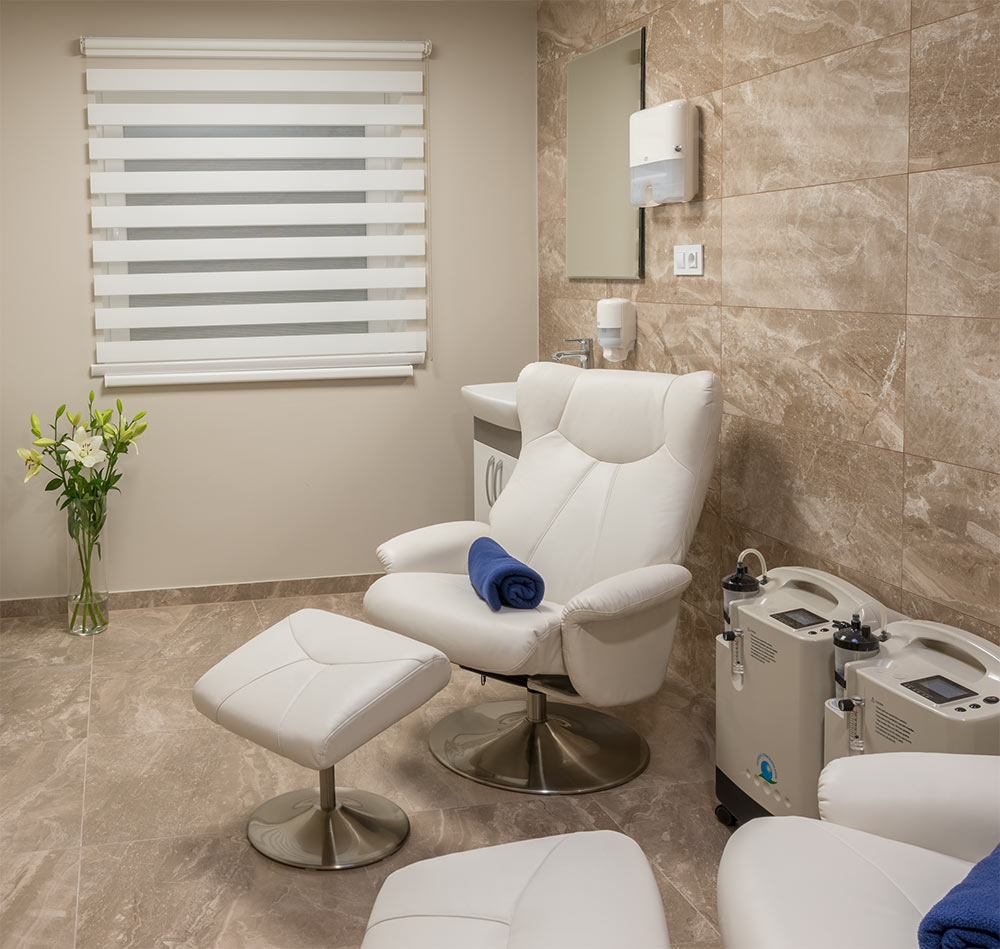 ELECTROTHERAPY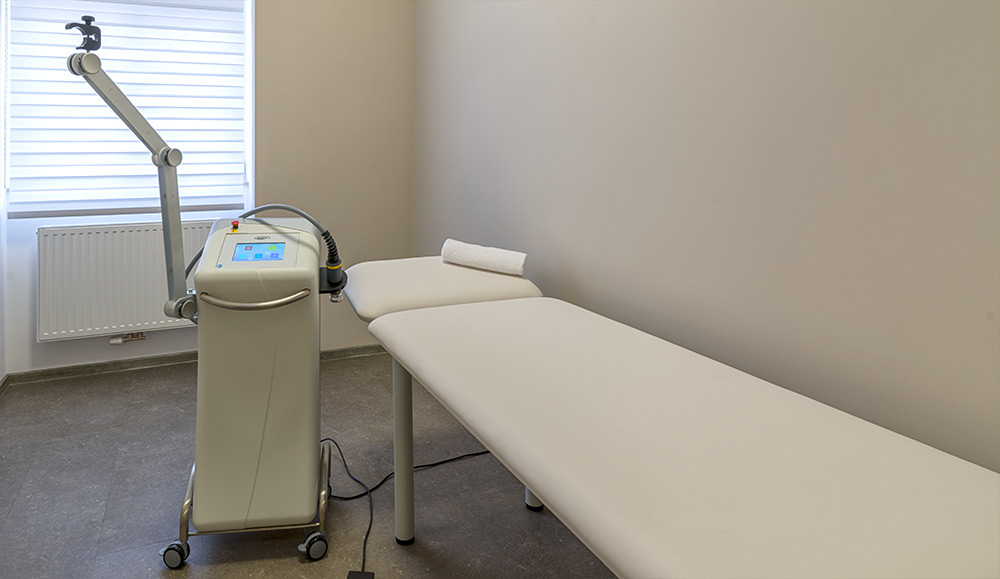 Laser treatment of urological and gynecological diseases
is a treatment focusing on the effective prevention and treatment of a wide range of gynaecological and urological diseases, remediation after infections of the pelvic organs, and treatment of menopause syndrome.
More information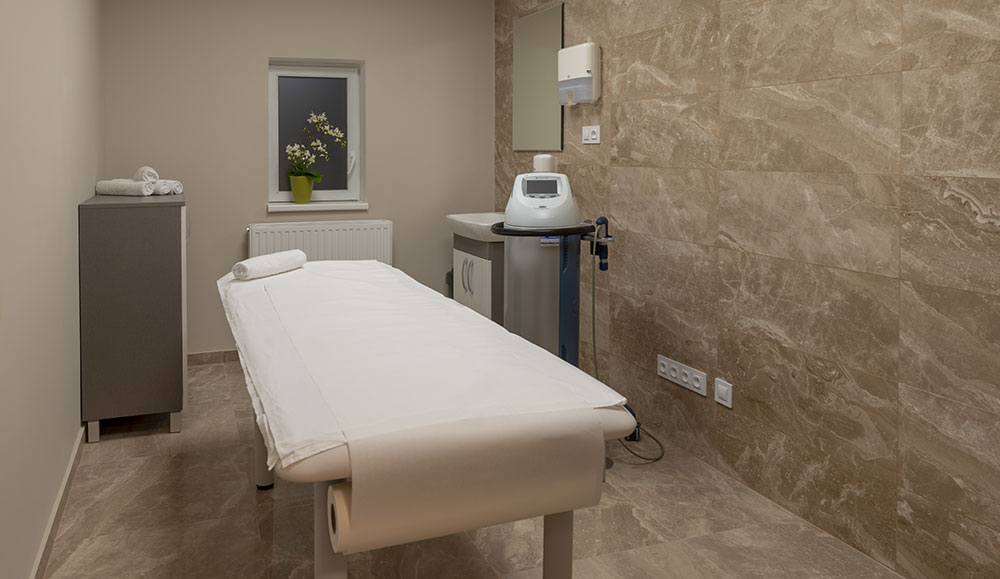 Shock wave
A new effective remedy for locomotor diseases and cellulite, which marks a revolutionary breakthrough in the treatment of chronic congestion. The method is based on the application of high energy vibrations in the area of the diseases. The treatment permanently reduces pain, improves local blood circulation, releases painful bone growths, calcified and fibrotic deposits - with the subsequent resorption of their fragments. The positive effect of this method is to significantly reduce and eliminate pain by disrupting the vicious circle of a disease, restoring the range of movement in the joints and subsequently increasing the load capacity, returning to professional or daily activities.
Practical experience shows that 80-85% of patients have a sustained effect after treatment with the SHOCKWAVE instrument, and many patients have been able to return to their professional activity after the first procedure. Moreover, this treatment method is very suitable for athletes, not required for them to be excluded for a long period from the rhythm of competitions or training, as well as for businesspeople, because it has a permanent positive effect after just three short treatment procedures.
More information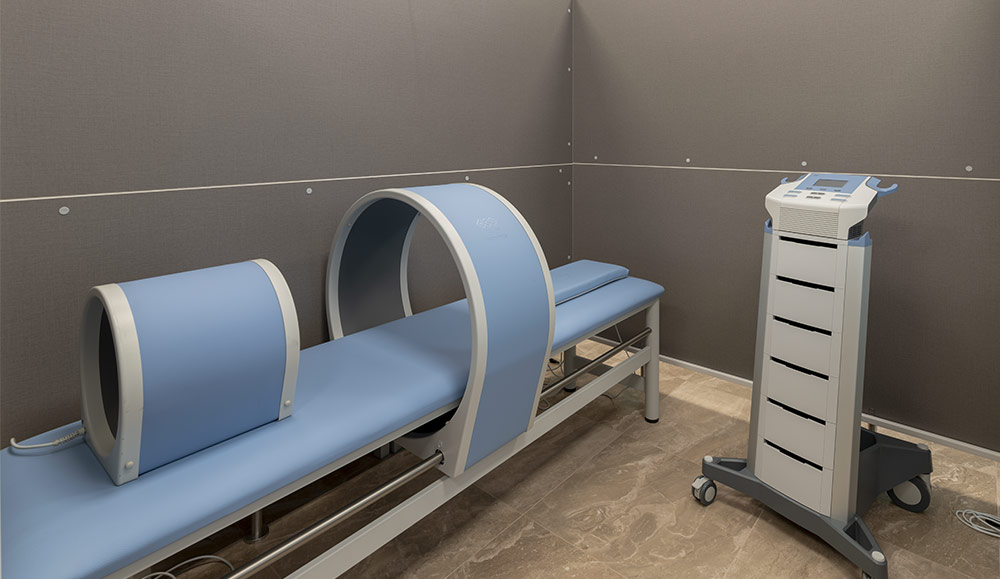 Magnetotherapy
The High Induction Magnetotherapy method works as follows: the instruments generates an electromagnetic field projected onto a limited segment of the human body so that it covers the application zone. This field interacts with the cells of the body, then compensatory mechanisms triggered within them, resulting in the induction field's basic effect. Health problems affect not only the structure of organs and tissues but the magnetic properties of the body. If we act accordingly toward the damaged organs, we can return them to a natural balance, which will help one to heal more quickly.
The effect of anti-inflammatory, sedative, anti-flow, hypotensive (lowering of arterial pressure), analgesic effect (helping to effectively overcome even strong phenomena such as phantom pain) as the basic effects of high induction magnetotherapy. Moreover, processes that ensure normal tissue nutrition and improve their regeneration capacity are restored. High-induction magnetotherapy is also a tool that can deliver great relief and, in some cases, completely eliminate unwanted feelings of pain.
More information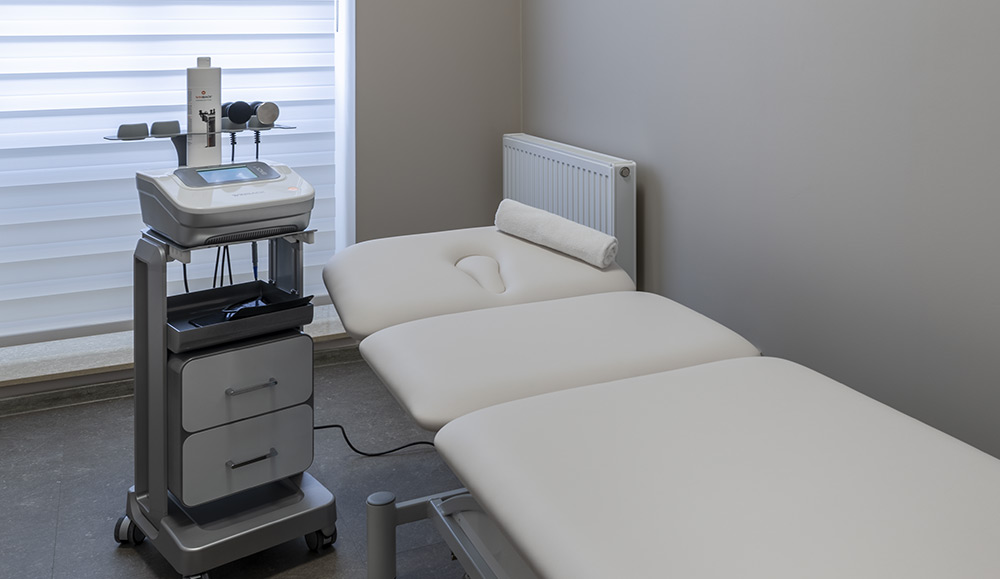 Radio frequency
Radio frequency is one of the newer mechanical methods used in dermatology, which basically uses the energy of the radio frequency spectrum to heat tissue and to smooth tissue. It can be used on the body or on the face. It stimulates the natural renewal of collagen in the skin, leading to a smoother, tighter, and younger skin.
More information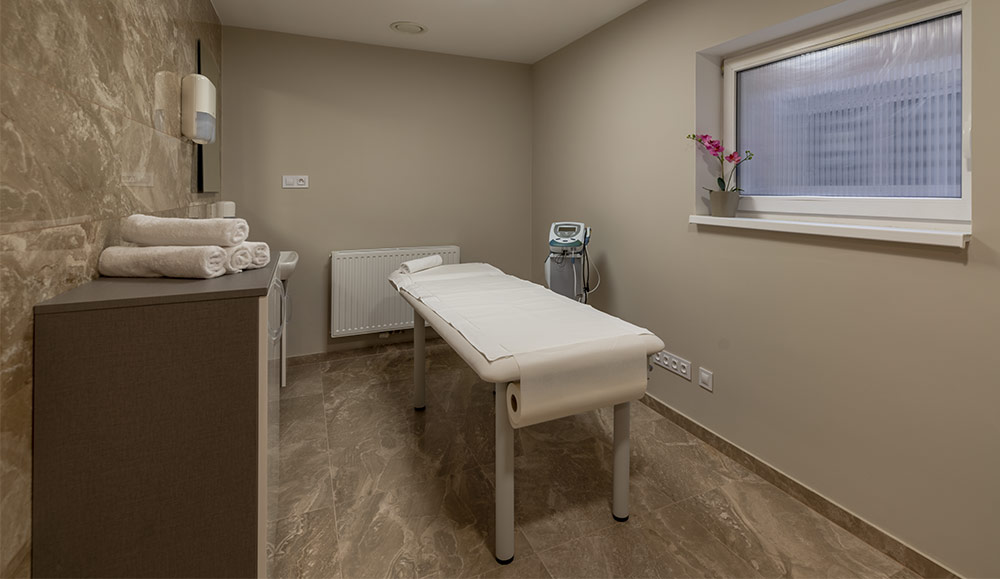 Ultrasound
are acoustic waves whose frequency lie beyond human ear audibility.
Purpose of treatment: deep warming effect, alleviating pain, relaxing long-term muscle tension, increasing local blood supply and the metabolism. It is primarily used for joint and nervous inflammation.
More information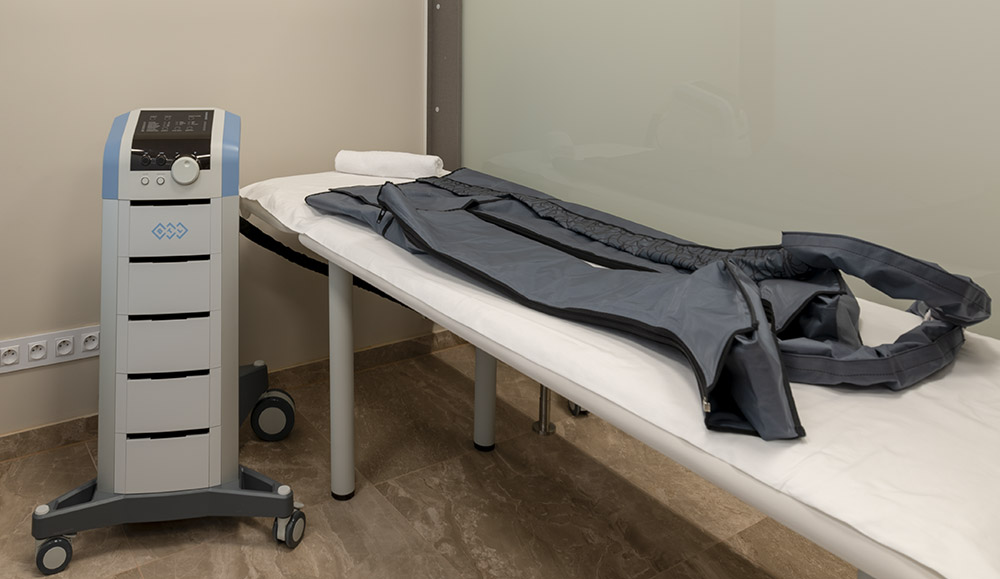 Lymph drainage - mechanical
is a procedure using a vacuum machine that massages. This procedure improves blood and lymph circulation in the body. Lymph drainage helps eliminate undesirable deposits and liquids from the body, it reduces pain and swelling, has a beneficial effect on skin quality and cellulite, which is reduced through repeated use.
The machine works on the basis of a pulsing suctioning, which massages, tightens, and expands subcutaneous tissue.
Contraindications of lymph drainage: oncologic diseases, acute bacterial and viral infections, skin infections, festering eczema, non-compensated hypertension, acute vein inflammation, swellings caused by heart, kidneys, liver, or pregnancy, glaucoma, vague abdominal pain, peripheral artery diseases, diabetes, seniors aged 65 and up.
More information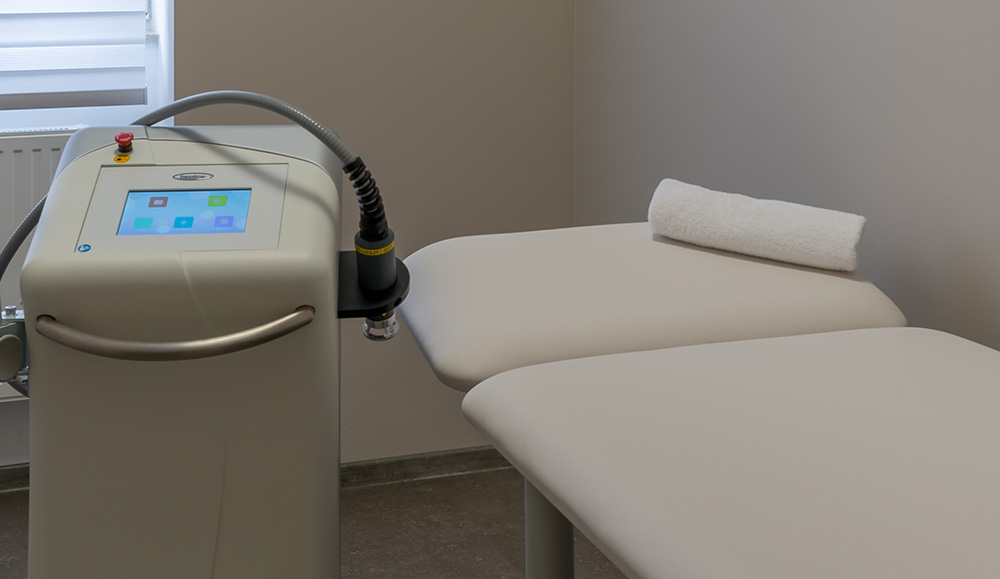 Laser Therapy
In remedial medicine, this is one of the pillars in physical therapy. It is used to reduce pain, to relax ligaments, and to improve healing. Lasers are a special type of radiation.
More information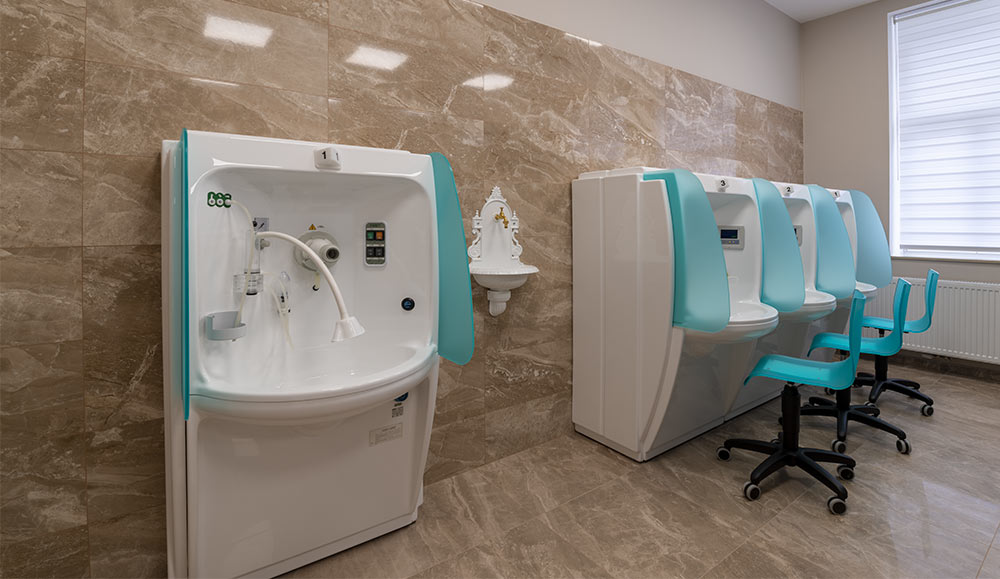 Mineral water inhalation
are used primarily for respiratory system diseases, for moistening the mucous membranes.
More information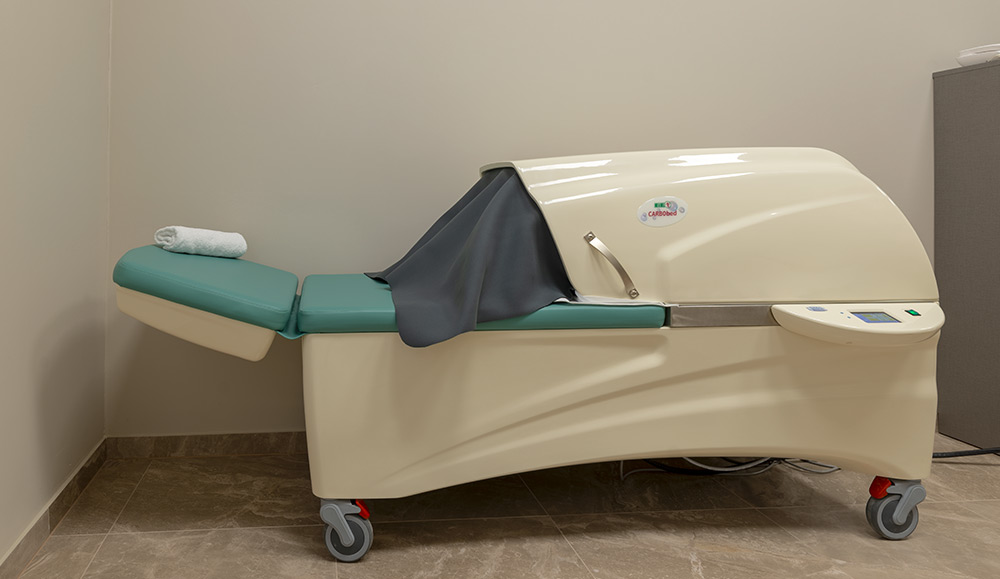 Dry carbon dioxide bath
An entirely new method of carbon dioxide treatment on the Carbobed instrument. Total or partial carbon dioxide bath, in which the patient's neck or chest is covered in a special chamber filled with carbon dioxide. Treatment in the Carbobed chamber has a positive effect on blood circulation, reduces arterial pressure, reduces the burden on the heart, improves blood circulation in peripheral parts of the body, improves metabolism, has anti-inflammatory effects, stimulates the production of sex hormones - testosterone and estradiol.
More information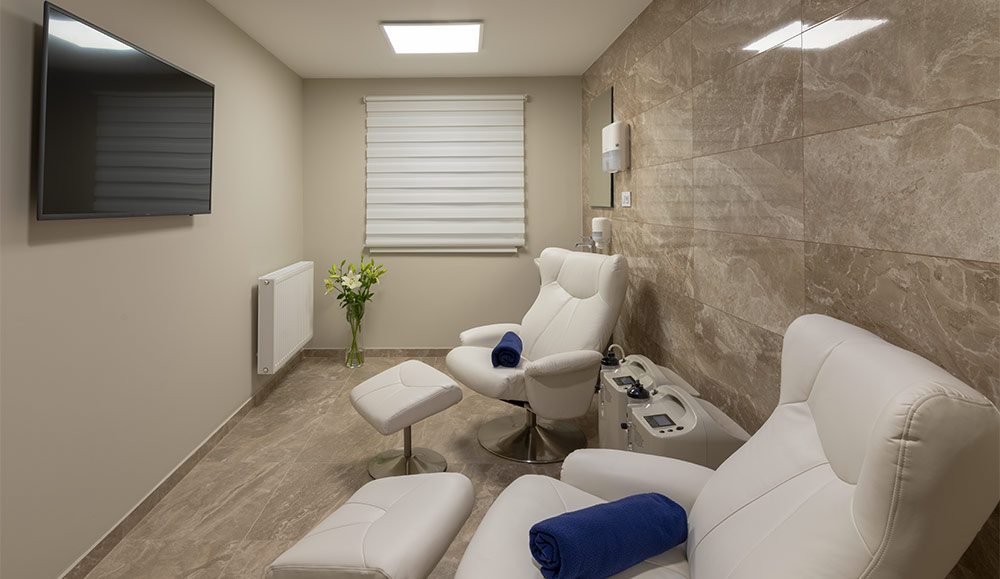 Oxygen therapy
is a therapeutic and regenerative method based on the principle of inhaling adequate doses of oxygen for 30-60 minutes. It is used during headaches, lack of appetite, fatigue, sleep disorders, depression, fast heart rate, treatment of malignant tumours, chronic acne, and diseases of the lungs, and bronchial tubes, stress.
More information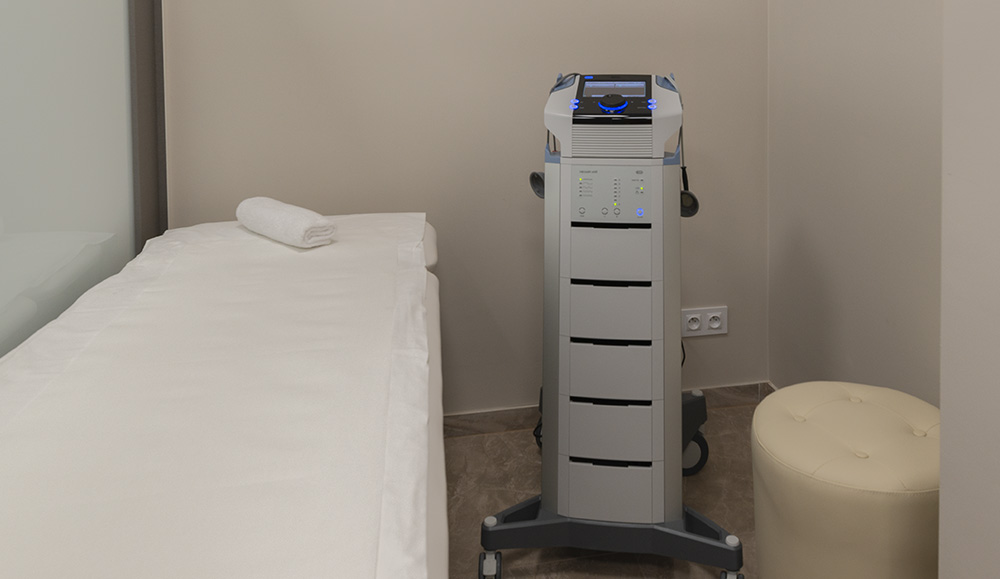 Electrotherapy – Endomed
is a machine indicated for the treatment of acute and chronic diseases of the vertebrogenic system, joints, tendons, and muscles. Its effect reduce pain, increase blood supply, and reduce swelling.
More information
HYDROTHERAPY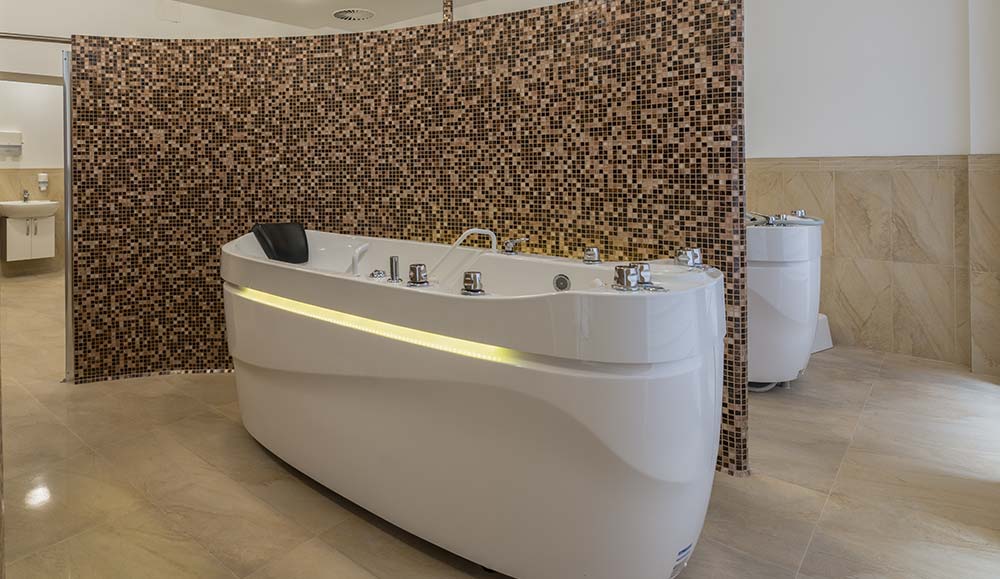 Carbon dioxide bath
The temperature of the bath is 34 – 35°C. Carbon dioxide has the effect of expanding blood vessels in the skin and in subcutaneous tissue, which is perceived as warmth.
The effects of the procedure: a beneficial effect on blood circulation, and it has a relaxing and sedating effect. It also effects receptors on the skin, and reduces the itching reflex.
More information

Pearl and aromatherapy baths
lying in water effects breathing, the functioning of glands with inner secretions, and boosts the metabolism. The water environment, along with the blood circulation, adjusts the functioning of the central, peripheral, and vegetative nervous systems, the warm water reduces muscle tension, and causes overall relaxation. Pearl baths use special equipment placed into the tub after being filled, creating small pearls of air in the water that have the effects of a massage. The temperature of the water is 37ºC.
More information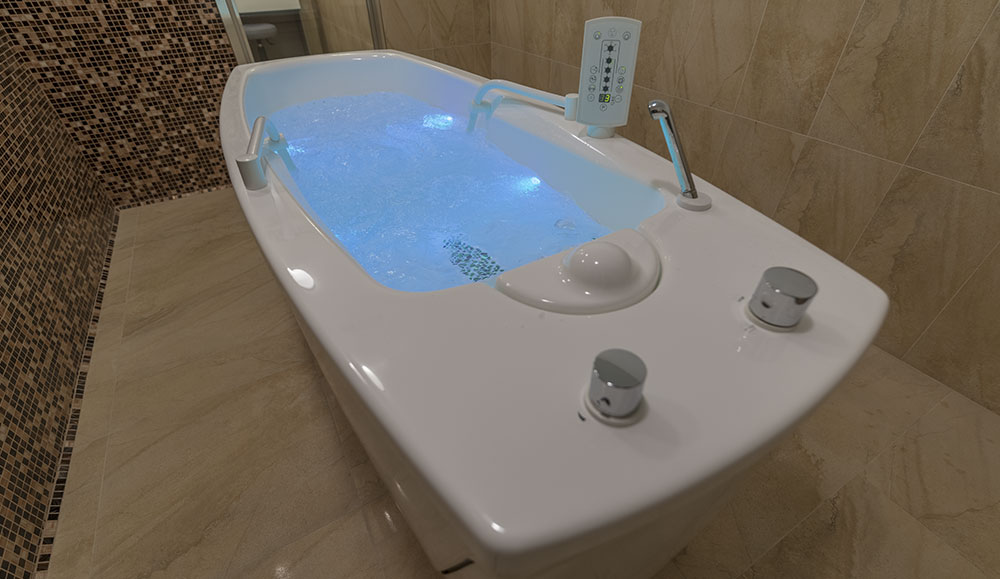 Hydroxer – watter massage
a hydromassage bath that improves circulation to the extremities and tissue metabolism, while also aiding locomotor and neurological diseases. The baths relax muscles, and warm and relax the entire organism.
More information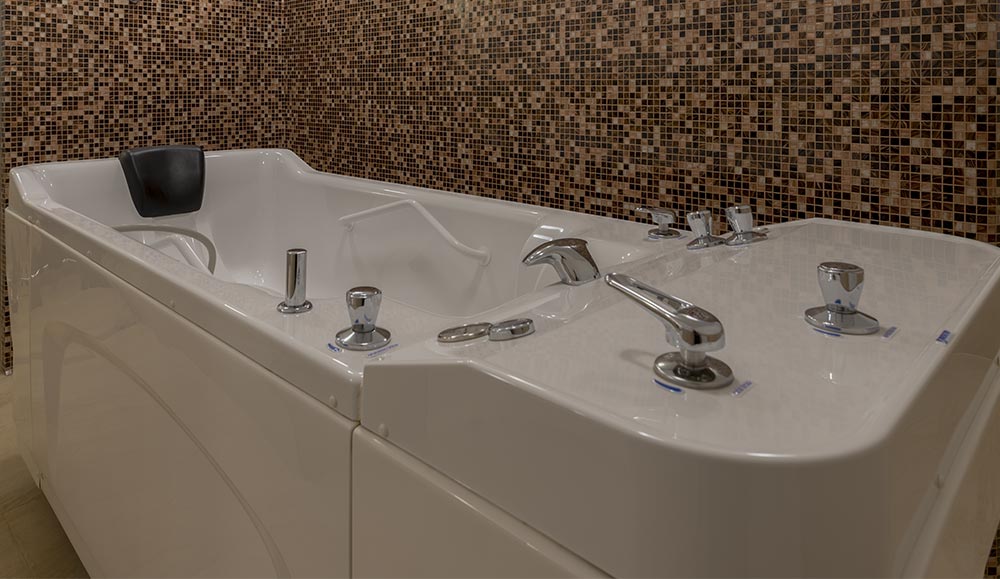 Underwater massage
This strongly toning massage is the perfect choice for treating various states of health. It helps improve blood circulation, lymph circulation, and micro-circulation, it stimulates the metabolism, it reduces inflammation and pain, relaxes muscles, improves joint and spine flexibility, tones the skin, and lowers the amount of toxins and water collected in subcutaneous tissue.
More information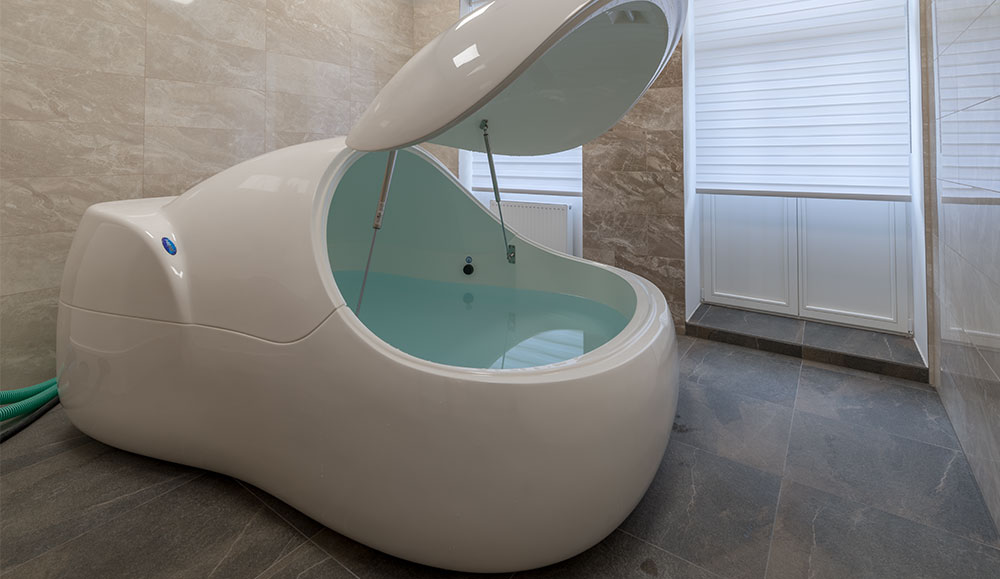 Floating
Floating in a special floating tank with new technology. The floating tank is a small light-and-sound-protected tank with saturated English salt that maintains the body on the surface. The temperature of the solution is permanently maintained at human body temperature, and the body and brain are at rest due to the absence of external stimuli (gravity, light, sound, heat and tactile stimuli). Completely relaxes all the muscles, back and loin pain disappears, many endorphins - the hormones of happiness - will enter the blood. The concentration of cortisol - the stress hormone - will decrease significantly. In less than 30 minutes, the floating will offer more rest than a few hours of sleep. Stress, anxiety, depression disappear after the floating. One's mood is calm and balanced. Relaxation and the good mood lasts several days after the procedure. Five to ten floating procedures are recommended to deepen and stabilize the effect.
More information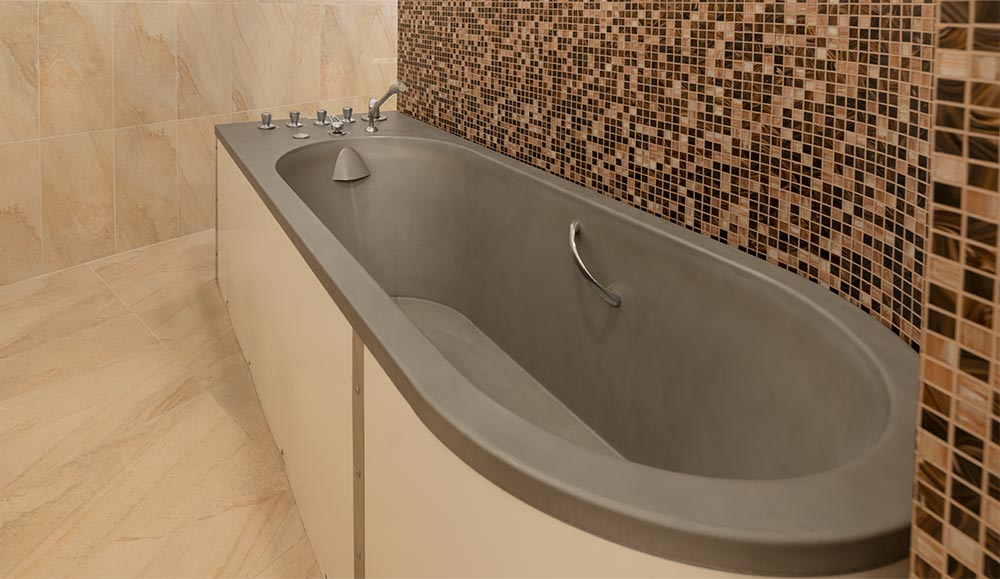 Peat bath
has excellent effects on rheumatic diseases and on arthrosis, alleviates back, joint, and muscle pain, improves eczemas, acne, and skin infections, reduces tension and stress, and boosts the functioning of sweat glands. It has been proven to have a positive effect on locomotor diseases, on gynaecological infections, neurological and civilisation diseases; it aids the treatment of psoriasis, atopic eczema, acne, reduces stress, adjusts sleep disorders, and regenerates the organism. It also has significant detoxifying properties. The optimum bath duration is 20 minutes, during which the curative substances manage to evenly cover all of the skin and enter the body. After the bath, it is desirable to remain calm and prostrate in a dry wrap for thirty minutes.
More information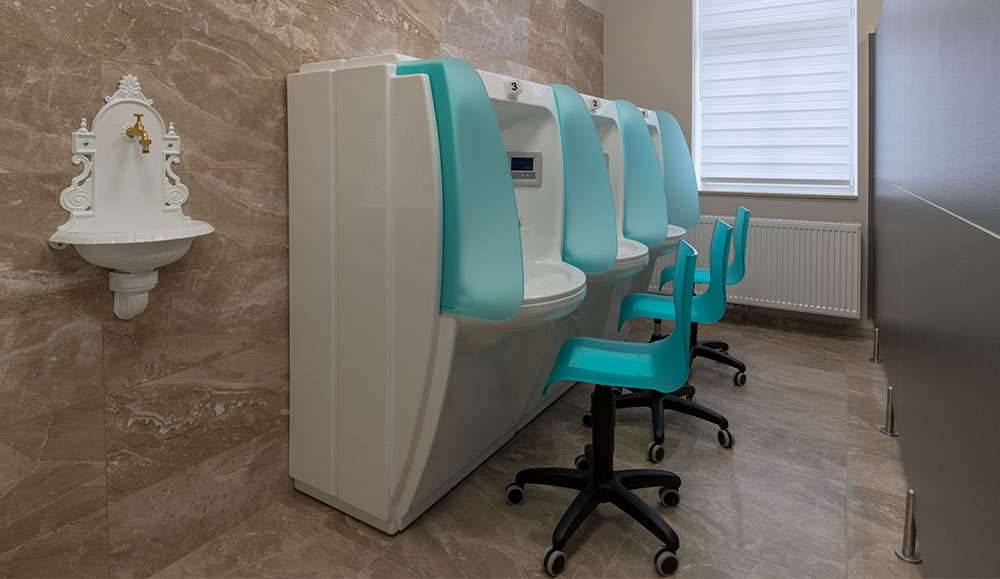 Dental irrigation - mineral water
Mouth irrigation is the massage of gums using pressurised spring water; it has a healing effect on the mucous membrane of the mouth. It has a therapeutic and preventive effect against periodontal disease. It might seem to be slightly aged in comparison to modern methods, but it is still prescribed and effective in fighting periodontal disease.
More information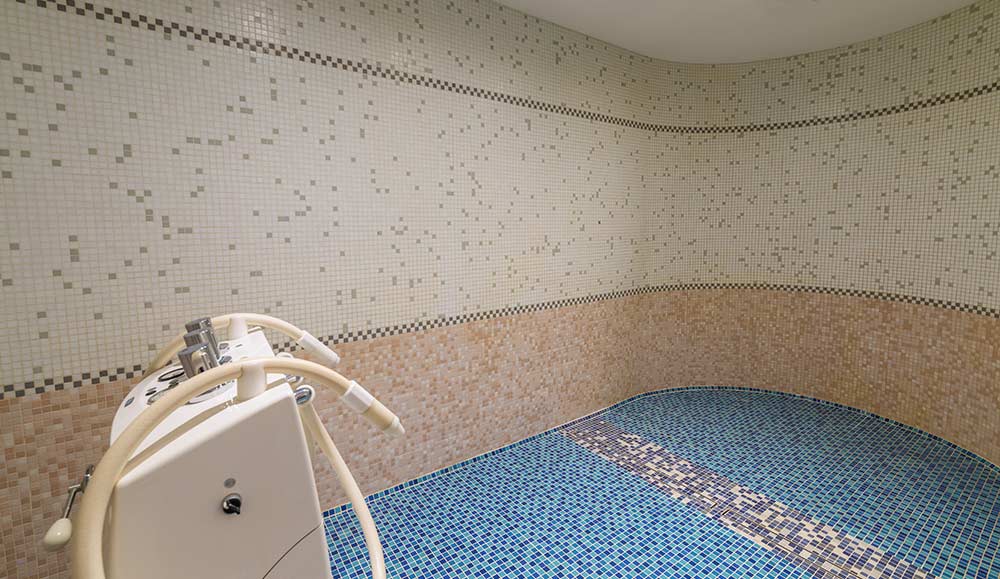 Alternating Water Jet
alternating hot and cold water is a method of hydrotherapy that effects circulation, the respiratory system, the nervous system, and the inner secretions of glands.
More information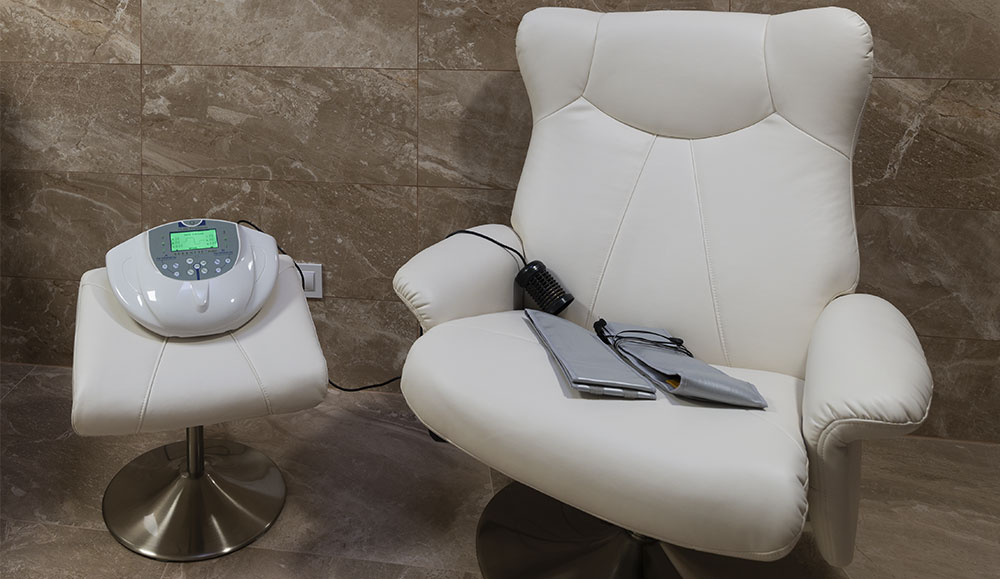 Detoxification of the Body – SPLENDID EAU
The SPLENDID´eau machine stimulates the elimination of toxins from the body caused by the presence of chemicals coming from medicine, environmental pollution, and food. When using this electrolyte bath, the bodily organs are cleansed, and the symptoms of menopause are alleviated, as are cramps, candidosis, and skin problems. The absorption of nutrients is increased, the immune system is renewed, and the liver, kidneys, and the lymphatic and urinary systems are significantly cleansed. The detoxification of the organism accelerates the metabolism, helps prevent arteriosclerosis, slows the ageing process, and improves the elasticity of the skin. The principle is based on eliminating waste substances from the body with the help of negative ions. These ions are basic (alkaline) and naturally allow the body to eliminate acidic waste. Acidic waste substances are precisely what cause so many problems and dysfunctions in the joints, tissues, muscles, and organs.
More information
THERMOTHERAPY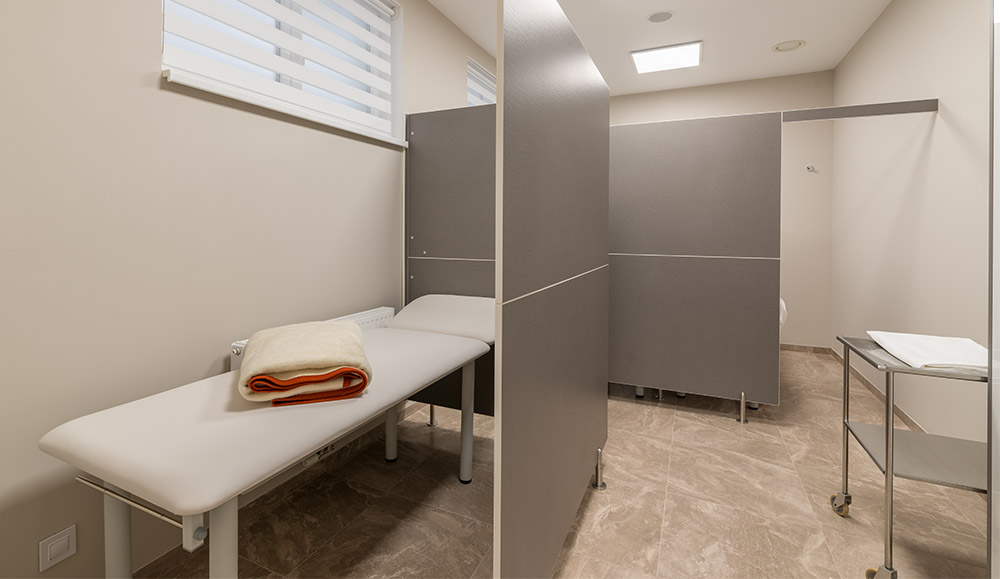 Paraffin Pack
is a pack using special wax gained from petroleum and enriched by vitamin E. It is used for therapeutic and cosmetic purposes. We do paraffin packs of the whole body or just of the hands.
More information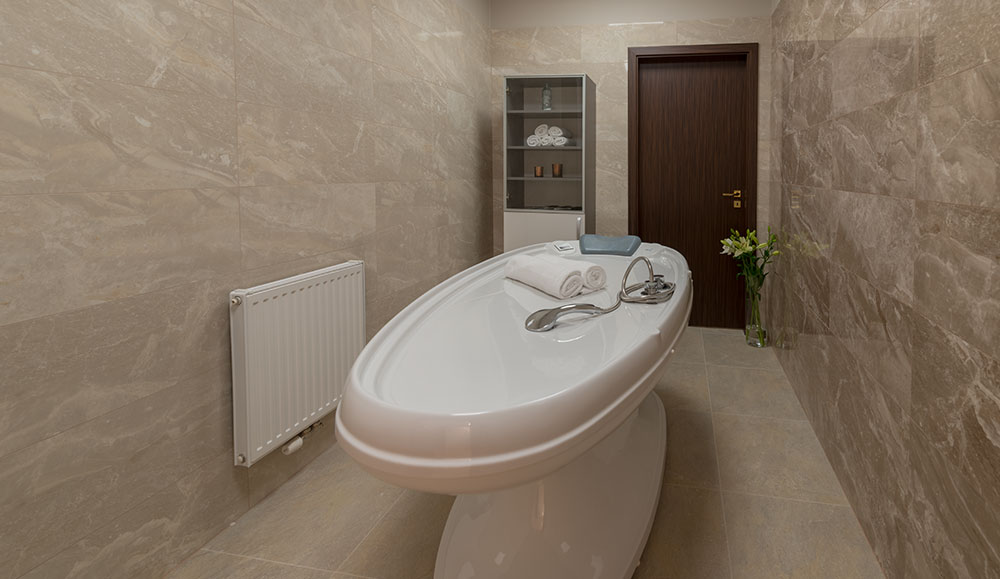 Peat packs
have excellent detoxifying properties. These lay in their high capacity for absorption, which occurs thanks to the exchange of ions, through which toxins are removed from the body and vital minerals contained in the peat are simultaneously provided to the body. Peat thus has a salutary effect on the cleansing and regeneration of cells in the body, and also contributes to improving skin quality, which is clean, well supplied with blood, and velvety smooth after therapy.
The peat packs significantly increase the permeability of skin, preparing the skin for the absorption of other substances.
More information
Massages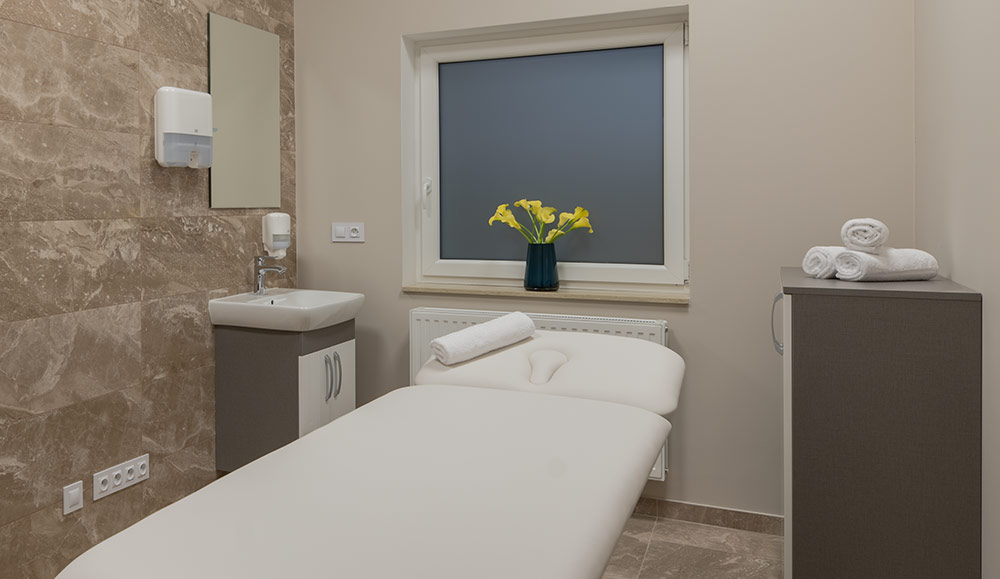 we perform these massages
Classical massage – overall
Classical massage – partial
Aromamassage – overall
Aromamassage – partial
Anti-cellulite massage
Lymph drainage  manual
Foot Reflex massage
Cupping Glass massage
More information
Others
Gas Injections
are applications of carbon dioxide to acupuncture points under the skin. The injections are used for pain, to improve blood supply and nutrition to tissues, and to relax muscle spasms. Indications: pain of the spine, joints, coronary artery disease, lower extremities, post-cardiac arrest states, disorders of blood supply and innervation. Contraindications: localised skin infections, states of bleeding, fear of injections.
Infrared Radiation - Solux
is used as heat therapy for colds, for rheumatic diseases, neuralgia, infections of the influenza type, muscle pain, inflammation, and in cosmetics for treating skin wounds, ear infections, post-operative states, for injuries, scars. During this procedure, the infrared radiation and the heat effect is used to boost the organism's immunity.
Medical physical training
is perfect when recovering from an injury and/or in case of chronic locomotor system illnesses. It focuses on regaining mobility scope in joints, strengthening and stretching muscles, and pain alleviation. It is solely concentrated on supporting the muscle corset.