Restaurant
Our guests have at their disposal a renovated and expanded restaurant with two separate parts. In its first, main part with rich decoration of glass chandeliers, there are banquet tables and a wine shop. On buffet days we do not book tables in advance.
Some prefer dining in the glazed part of the restaurant, which we call the veranda, and from where you can watch the movement on Sadová Street.
From the restaurant there is a direct entrance to Café Terrace. This is a popular place especially during the summer months for breakfast, light snacks with recommended seasonal products, draft beer or just for afternoon coffee with cake.
In addition to a pleasant sitting in a luxury restaurant or on the open terrace, we will be happy to invite you to the new lobby bar with a beautiful interior, including a marble fireplace, quality wine of the month, rums and other popular drinks.
The reviews of our guests speak for our great team of cuisine and service, see for yourself. That's why guests like to come back to us several times a year.
If you are planning a small social celebration of a family or company, we can offer you a beautiful VIP lounge on the 1st floor for 8 people or a Billiard club for a group of up to 20 people, with its own bar and the largest pool table in Karlovy Vary. We will be happy to compile a menu with you according to the nature and budget of your celebration.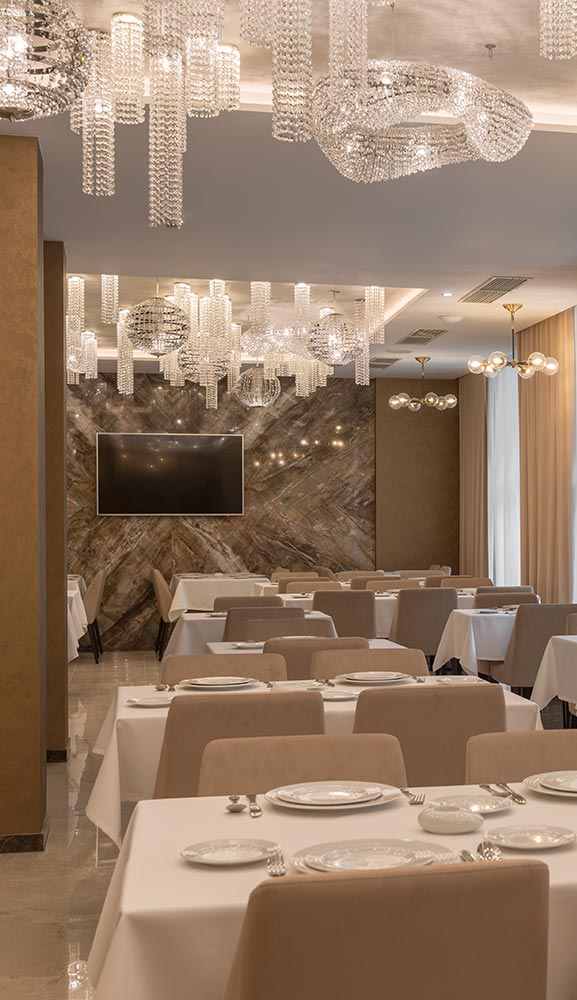 Lobby - Cafe - Bar Goethe
In the GOETHE Lobby Bar, you can pleasantly relax with a cup of high-quality tea or of fragrant coffee. In the evening, a get-together with friends and a glass of good wine will surely hit the spot. Our experienced staff will gladly help you select the best, utterly satisfying your desires.
Billard Club
For lovers of billiards, we offer the largest pool table in Karlovy Vary and the opportunity to watch sports matches on TV.
The club is suitable for board games and private parties.